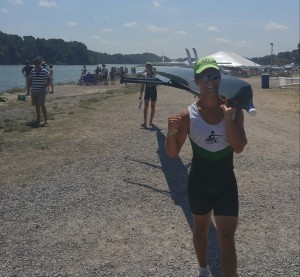 Sagamore Rowing continues its traditions of athletic excellence in its 45th year this summer with programming for all ages, abilities, and interest.
Learn-To-Row
For entry level middle school and high school athletes, this is the perfect introductory program!  With a small coach to athlete ratio, your athlete will gain quality coaching & learn all the fundamentals of the sport in a safe & challenging environment.
Intermediate Training
For middle and high schoolers that already know how to row and are looking to refine their technical base.  Drills & Fitness are uniquely designed for this age group and athletes will mix fun and fitness equally! Learn-to-Row Graduates are encouraged to take their rowing to the next step with this clinic.
Competitive Training
This camp is for high schoolers looking to push their competitive abilities forward. By training along the Competitive Travel team, these rowers will gain the benefits of high level training, without the commitment of the travel team.
Competitive Travel Team
This program is for athletes with the drive, desire, and work ethic to compete at the highest level.
Pre-Season Boot Camp
End your summer with 10 sessions on the water during 5 day. 1 week span. There is no better way than boot camp to get you ready for the Fall Rowing season. This camp is open to all high school athletes from any high school. Enter the school year prepared to make your team faster!