Our Water
Sagamore rowers row on beautiful Oyster Bay, one of the cleanest water ways on Long Island. Rowers wet launch from Beekman Beach, a short walk from the boathouse doors.
CLICK HERE TO SEE THE TIDE SCHEDULE
The Boathouse
Sagamore operates out of a historical structure from America's great era of ship construction, a former Jakobson Shipyard building renovated in 2000 by the Town of Oyster Bay and the State of New York on the Western Waterfront near Beekman Beach in Oyster Bay, NY. It has two bays and holds over 80 rowing shells along with enough rack space to hold oars for as many boats. Sagamore also stores boats outside in the yard behind the boathouse. Both private teams and individual members are permitted to store their boats at Sagamore however we are currently at capacity. There is a full range of club shells available for members to share including trainers, singles, doubles, quads, and eights, both for recreational and competitive use.
GPS Address: 3 West End Ave, Oyster Bay, NY 11771
The Sagamore High Performance Training Center
In November 2015, Sagamore Rowing Association secured our own training center.  Appropriately named the "Sagamore High Performance Training Center," this 1500 square feet facility with over 30 ergs, kettlebells, box jumps, & swiss balls provides the space to train all our athletes appropriately!  The SRA-TC is located in downtown Oyster Bay (69 Hamilton Ave) and allows us to bring our programming to the next level for years to come!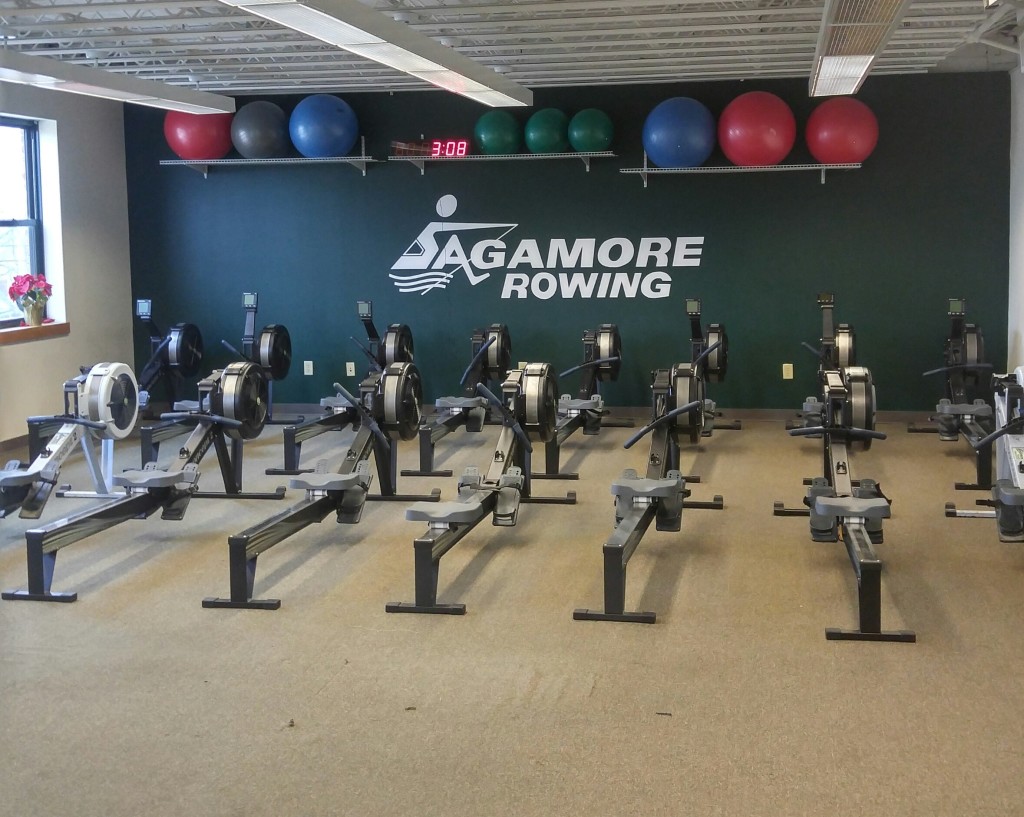 Directions to the Boathouse
Long Island Expressway (I-495)to exit 41 north – Route 106.
Take 106/107 north for 1/2 mile and stay to the right on Route 106 towards Oyster Bay.
Continue for 6 miles and make a left onto Lexington Avenue. There will be a Hess Gas Station at the corner of Lexington Avenue.
At end of Lexington Avenue turn left onto West Main Street.
At the first light turn right onto Larrabee Avenue.
Bear to the left and cross over railroad tracks.
After the railroad tracks, make the first left onto West End Avenue.
The third building on the left side is the Oyster Bay Boathouse. It a large, light blue metal building.
Please follow West End Avenue to the end and park in the Beekman Beach parking lot.