NEWS AND UPDATES
Sagamore Rowing Parents Meeting
Spring 2017 season
For parents of all middle and high school atheltes
 Thursday, March 30th at 6:30 pm
69 Hamilton Avenue, Oyster Bay Second Floor
Join us to meet our coaching staff, for an informative session followed by Q & A
OLMA Sprints
Our affiliate OLMA hosted a very successful Indoor Sprint challenge on Saturday March 11th in Syosset, NY.  OLMA athlete Maddie O'Reilly tied for a silver medal in the women's varsity event.  Sagamore was well represented by juniors and masters athletes. Congratulations to Kenrick Hartman on his win in the Men's Open event.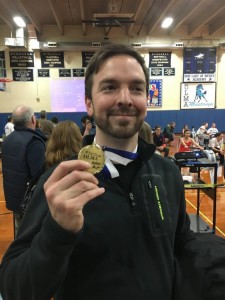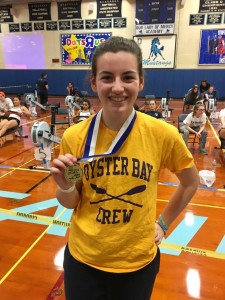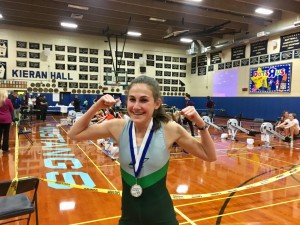 Top finishers in the junior events include Paige Lind (R) with a silver medal performance in the Women's Novice Lightweight category, while Giselle Grassi (L) took home the Gold in the Women's Novice event! Our team showed a lot of depth, especially in the novice events which are a solid indication of potential growth in the future!
A great big "Wahoo!" from OLMA Head  Coach Gina to all participants and supporters!
Three Sagamore junior team members represented our club on the National level on Sunday March 12th. Raymond Sanders, Witt Holmes, and Tyler Ryals each rocked their 2000 meter erg piece,  garnering personal best results, followed by showcasing their skills for the national team coaching staff at the Team USA Identification Camp in Mercer, NJ.
Registration for 2017
Adult Members
Registration for 2017 Adult and non affiliate College membership is now open. Online registration is available HERE >Memberships. This is a reminder that the family membership category was discontinued in April 2015. There are discounted rates available for additional family members. Please contact membership@sagamorerowing.org with your questions.
Affiliated collegiate athletes may register on a seasonal basis HERE > Teams and Groups.

Junior Athletes
Registration for Sagamore teams is now open for 3 levels of programming

2017 Spring Competitive High School Team
2017 Spring Middle School Team
2017 Spring Recreational Team

Friends Academy athletes and Oyster Bay athletes will need to register for their respective programs online

HERE

> Teams and Groups.

OLMA athletes may register  

HERE

> Teams and Groups.
Help Sagamore Rowing Association when you shop online; Sign up for an IGive and Amazon Smile account and a portion is donated back to the club!
Meetings of the Board of Trustees
Third Wednesday of every month at 8:00 p.m.
at the Water Front Center (adjacent to the boathouse).Club Members are encouraged to attend. 
The 2017 Annual Membership Meeting is scheduled for Wednesday April 19th.  A social opportunity will follow the business portion of the meeting. Watch your email in box for news pertaining to election of Trustees.
Sagamore Rowing 2013 Promo from Chris Mare Photography on Vimeo.