SUBSCRIBE TO OUR DIGITAL CALENDAR:
NEWS AND UPDATES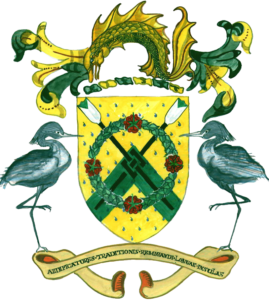 Sagamore Coat of Arms created by member Bettina Barbier.
Congratulations to Master's members Frank, David, Pat H., and Suzanne for passing the Captain's Test this season.  The Captain's Test is the two part assessment that qualifies new members as independent scullers and confers key fob status.  Testing will resume in the Spring for interested members.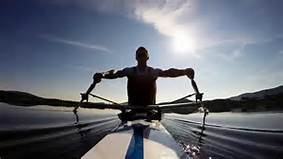 Autumn Reminders
Sling Ettiquete Checklist
1. Put enough slings out for yourself and take them in when you are finished with them.  Be mindful of spacing as the yard can get crowded.
2. Be mindful of slings placement by other athletes and crews. If you need to shift slings, take care to place them the same distance from each other in accordance with the size of boat for which they were set out.
3. Check the log book before you leave and take care to ensure that slings are left out for rowers still on the water, and that the slings are left in a place and position to facilitate ease of use by the incoming rower.
4.  In the event you need to use a sling or a set of slings put out by another rower, it is your responsibility to immediately set up another set to accommodate the other rower whether they may be coming up from the water or out of the boathouse.
5.  Position your slings in a manner that does not interfere with boathouse ingress or egress. (That includes any boats using trailers)
Right of Way
Rowers are reminded that USRowing offers the following guidelines regarding the right of way on the water:
Right-of way rules have been developed by the USCG. Vessels with the least maneuverability have the right-of way, but always play it safe and take action to avoid all other types of boats. The maneuverability rule can be confusing. For example, a sailboat without wind has the right-of way, but a sailboat with wind must give right-of way to the shell.
Be safe – have fun. For more important safety words of wisdom check out Coach Mike Wagner's latest article.
'Tis the Season!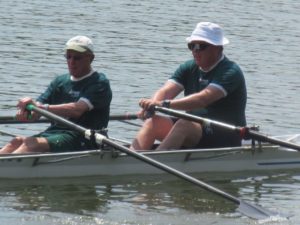 As the Fall season is underway, and our adult members who scull independently are joined by newer members and learn to row graduates, it's important to review our safety guidelines. Rowers are reminded to use lights at dawn and dusk.  Check out Coach Mike Wagner's enlightening piece Tis the season for bow and stern lights .
Also link to his helpful discussion on Safety Tips for 2017.
Members who do not hold keys and are not yet cleared for independent sculling are encouraged to participate in open row times by buddying up with an experienced key holder member. Open rowing for members is weekend mornings at 8 and Tuesday and Thursday evenings at 6. Only members who are  cleared for independent rowing may host guests,  take boats out on their own or mentor a newer rower.  Experienced fob holding members are encouraged to welcome new members and provide appropriate guidance and assistance. 
Captains Test Update: Members may become eligible for independent sculling and key holder status by successfully completing the Captain's Test.  This two step screening is designed to assess the athlete's overall familiarity with the full scope of the club's rules, policies and protocols as well as to demonstrate on the water proficiency from rack to return.  The goal is everyone's safe participation at Sagamore. Step one, the written portion, may be requested from the membership committee. Step two will be conducted by an assigned Sagamore coach as appropriate. 
2017 Social Rows Continue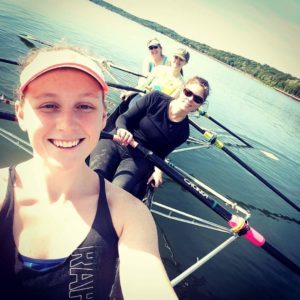 Don't forget Taby's informal post row breakfast gatherings weekend mornings. Thursday evening post row gatherings continue at Mario's pizza. Check back for upcoming event dates. 
 

Registration for 2018
Adult Members
Registration for 2018 Adult and non affiliate College membership will open in the new year. Online registration for 2017 winter training programs is available HERE >Programs and Classes.  Please contact membership@sagamorerowing.org with your questions.
Affiliated collegiate athletes may register on a seasonal basis HERE > Teams and Groups.
Help Sagamore Rowing Association when you shop online; Sign up for an IGive and Amazon Smile account and a portion is donated back to the club!
Meetings of the Board of Trustees
Third Wednesday of every month at 8:00 p.m.
at the Water Front Center (adjacent to the boathouse). Club Members are encouraged to attend.   As always, feel free to contact any trustee regarding concerns or matters of importance. 
Sagamore Rowing 2013 Promo from Chris Mare Photography on Vimeo.